Some Warrick County students have been influenced by history through music.
This year's Warrick County Musical participants will put on a school edition of Claude-Michel Schonberh and Alain Boublil's Miss Saigon. The musical is set in 1970 Saigon during the Vietnam War featuring a romance between an American GI and a Vietnamese bargirl.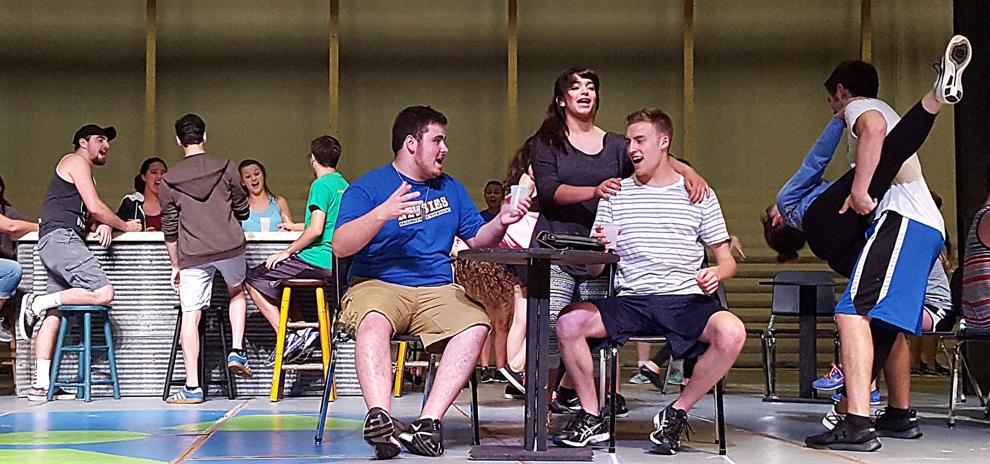 Director Eric Antey said the process to learn and rehearse the musical started with a few history lessons. He said the students were even visited by a veteran of the Vietnam war to help them learn about their roles and the importance of the musical.
"As a teacher, the educational aspect is always important to me," he said. "I think it's important for kids to see that theater and art can teach them lessons about life."
In addition to the lessons learned from a historical standpoint, Antey said the musical is a challenge for the participants. He said it's a musical that isn't commonly seen today and give the kids two hours of non-stop music to perform.
"It challenges our kids unlike anything they've ever done before," he said.
Antey said Miss Saigon was selected for this summer because the show tells a good story. He said the story is still applicable today in a world where there is still a lot of war and strife.
"With this being the 20th anniversary of the program, we wanted to make a big splash and do something that celebrates what the Warrick Summer Program is all about," he said.
Recent Castle graduate Austin Marchino is set to play the lead, Chris, an American G.I. stationed in Vietnam. Marchino said he is very excited to participate in the production.
"I've played a lot of character roles, but this one is more real," he said.
Marchino said he hasn't ever had the chance to play a role of a hyper-masculine figure like a soldier before and has struggled to find the similarities between himself and the character. He said the process has been enlightening for him and has helped him in a number of ways.
"I have really enjoyed the journey of finding that and representing it on stage," he said.
Marchino will be joined on stage by fellow Castle graduate Jacelyn Stewart. Stewart will play Kim, Chris' love interest. Stewart will portray the 17-year-old Vietnamese girl who lost her family and is out of options.
"She's scared and looking for a job when she meets Chris," she said. "I've played a lot of roles, but nothing as significant and heartfelt."
Stewart said it has also been difficult for her to identify with her character. She said she is only similar to the character in age, but is working to understand the strong difference in the character's difficulties and her own.
"This woman is scared. She was not certain she was going to live the next day," she said. "I've found myself crying while listening to the soundtrack. It's really emotional for me."
Overall, Stewart said it's crucial for students to have the opportunity not only to learn the facts of the time period and the events, but to also learn how the events affected people and changed the lives of many. She said she has learned more about the Vietnam War through the musical than she ever did in high school.
"I think it's very important for our generation to know what happened," she said.
Marchino said learning about the time period and hearing firsthand accounts of the historical references in the play helped him not only in his role but also have a better understanding of the war.
"Having a Vietnam veteran come in has effected me on a deeper level than looking it up on Wikipedia," he said. "You get to see their reactions and they're able to present so much more than you could ever learn in a text book."
Stewart said this is her sixth show in the summer musical program — and also her last — but she couldn't be happier with where she is. She plans to attend Southern Illinois University Carbondale and major in musical theater in the fall.
"There's no better show to end my high school career on," she said. "Everything is leading up to this now."
Marchino is in his third year of his participation in the Warrick County Summer Musical, but wishes he would have started sooner. He said the program and his participation in other musicals has given him the inspiration to major in musical theater at Ball State University this fall.
"It sounds cheesy, but it's what I look forward to when I wake up and what I ponder when I sleep," he said. "Music inspires others, tells about yourself and teaches lessons to use in life."
Stewart said everyone should take the time to be involved in a musical at some point in their high school career. She said she has enjoyed her time with the Warrick County Summer Musical program and would encourage others to participate.
"It's definitely a place where we're all family and no one is cast aside," she said. "It's an experience I wish everyone would have—­getting together with a group of people and doing what you love."
The show will be July 21, 22 and 23 at 7 p.m. and July 24 at 2 p.m. Tickets can be purchased online, by calling (812) 455-6851 or by visiting Castle High School on July 18, 19 or 20 between 6:30 p.m. and 8:30 p.m. Tickets can also be purchased two hours prior to each show.